Press Release
January 9, 2017
Contact: Jerome Wagner; President, 350NJ.org; (607)348-5773; jjwagner00@gmail.com
Jeff Tittel, Director, New Jersey Sierra Club; (609)558-9100
Matt Smith; Senior Organizer, Food & Water Watch; (201)321-1967; msmith@fwwatch.org
Activists Tell Senators Menendez and Booker: Derail Trump's Climate Deniers!!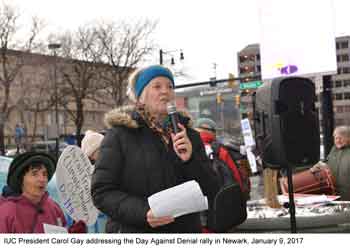 Newark, NJ — On Monday, January 9th, about 80 concerned activists and community leaders from New Jersey gathered in Newark to urge Senators Robert Menendez and Cory Booker to protect the state from climate risks by firmly rejecting President-Elect Trump's climate-denying nominees.
This #DayAgainstDenial event was one of about 50 nationwide actions held on January 9, 2017. The climate advocacy group 350.org launched the day; NJ Sierra Club and Food & Water Watch were key NJ supporters along with several other sponsors.
The message being sent to Senators Menendez and Booker: Reject Donald Trump's reckless climate denying cabinet nominees. The nominees being focused on today: Rex Tillerson, former CEO of ExxonMobil, for Secretary of State; Scott Pruitt, Attorney General of Oklahoma, for EPA Administrator; former Texas Governor Rick Perry for Secretary of Energy; and Ryan Zinke, Congressional Representative of Montana, for Department of Interior.
Activists gathered at Military Park as an initial meet-up. There, some speeches were made and a march was formed up. Leaders of the march held posters naming and picturing the four nominees of concern and clearly stating our opposition. The ½ mile march then proceeded down Broad Way and on to Market Street, concluding at One Gateway Center — the building housing the offices of Senator Menendez and Senator Booker. Chanting included "Dump Trump's Deniers."
At Gateway Center, rallying continued for an hour while delegations met with staff of both senators (both were actually in the building concurrently). The delegations included leaders from 350NJ, NJ Sierra Club, Food & Water Watch, Environment New Jersey, New Jersey State Industrial Union Council, and the Communications Workers of America. Beneficial discussion occurred at those meetings.
Out on the sidewalk in front of One Gateway, we had impromptu speeches of support from NJ Congressional Representative Frank Pallone and State Assemblyman Tim Eustace. We had many other speeches, as well as singing — led by the Solidarity Singers — and a People's Mike address which concluded with "Derail Rex. Derail Scott. Derail Rick. Derail Ryan."
For the whole time, the activists and community members endured sub-freezing temperatures. "We left cold in body, but warm-in-heart for the experience of expression and solidarity," concluded Jerome Wagner.
"The climate is changing here in New Jersey and the risks imposed by climate chaos increase by the day. Anyone who denies those facts shouldn't be in the White House cabinet," quoted Jerome Wagner, President of 350NJ. "If confirmed, these for nominees would have the power to: dramatically expand oil and gas drilling and coal mining in the United States; obstruct the shift to wind and solar power; expand the export of US fossil fuels world-wide; and spur a rise in power plant and transportation greenhouse gas emissions. We don't have time to waste. These actions would be disastrous to New Jerseyans, other Americans and the planet. It's up to the Senate to stop these nominations. Senators Menendez and Booker: Derail Trump's Climate Denial Cabinet."
"We have made a lot of environmental progress over the past 45 years and all of this work is at risk with Trump's policies and proposed cabinet. That is why it is so critical for Senator Booker and Senator Menendez who are strong environmental champions to lead the fight to block Trump's anti-environmental cabinet nominees. Stopping these nominations is even more important because they will dismantle all the Senators did to stop offshore drilling in the Atlantic, protect our air and water, and fight climate change," said Jeff Tittel, Director of the New Jersey Sierra Club. "When you look at Trump's selections, you see a group of climate change deniers who are connected to corporate polluters in the oil and gas industry. This is like the fox guarding the hen house because these nominations are all opposed to the goals and missions of the agencies they are supposed to lead. Together with our Senators we can stop these dangerous nominations and protect our environment."
"There is no time for a 'wait and see' approach with the Trump administration. This planet-threatening agenda must be stopped before it starts," said Matt Smith, Senior Organizer, Food & Water Watch. "Senate Democrats have the power to say no, and we want them to know that we demand that they resist this administration's threats to clean air, clean water, and a livable planet."
"President-elect Trump's Cabinet nominations are clearly out of the mainstream, and nowhere is that more clear than on the environment," said Doug O'Malley, Director of Environment New Jersey. "EPA Administrator nominee Scott Pruitt's political career has been focused on dismantling the EPA and denying the impact of climate change. Fossil fuel interests have poured money into his electoral campaigns, and now are coming to his defense with the creation of secretive PACs. These nominations will be a pitched battle and we urge Senator Booker and Senator Menendez to lead the charge to oppose these nominations."
Carol Gay, President of the New Jersey State Industrial Union Council, stated: "Trump's nominees must be blocked because they represent the worst aspects of humanity — those who are willing to sacrifice people and the planet for short term profits by continuing to promote fossil fuels despite the scientific evidence. This type of thinking is unwise, outdated, and dangerous, and cannot be tolerated. We need cabinet members who truly support the public interest, not Plutocrats who plan to pillage all our precious natural resources."
Ted Glick, representing both The Green Party of Essex County and Beyond Extreme Energy, stated "With climate denier Trump in the White House, the Democrats need to find a spine. It's time for resistance, not accommodation, when it comes to the climate denier and other Cabinet nominations."
"We are inspired by Pope Francis, especially his 2015 groundbreaking document Laudato Si, On Care for Our Common Home, said Jackie Schramm, Social Justice Minister at St. Mary's Catholic Church (Pompton Lakes) and leader of their Franciscan Response to Fracking group. "We are responding to the Pope's clarion call for climate change action NOW. We implore you, Senators Booker and Menendez, to measure your votes Wednesday regarding the cabinet members with this question: "What are your positions and attitudes regarding climate change?" Humanity doesn't have the luxury of four more years in denial."
Supporters include: New Jersey Sierra Club Food & Water Watch, Greenpeace, CREDO, Interfaith Power and Light, Waterkeeper Alliance, Hackensack Riverkeeper, Franciscan Response to Fracking, Beyond Extreme Energy, ClimateMama, Roseland Against the Compressor Station, North Jersey People for Progress, EJ Green Drinks, The Wei, Tierra Madres, NJ Peace Action, and others.
For more information, see: https://actionnetwork.org/events/senators-menendez-and-booker-reject-trumps-climate-deniers.
---
350NJ is an autonomous chapter of 350.org. 350.org is building a global climate movement. Its online campaigns, grassroots organizing, and mass public actions are coordinated by a global network active in over 188 countries. The number 350 means climate safety: to preserve a livable planet, scientists tell us we must reduce the amount of CO2 in the atmosphere from its current level over 400 parts per million to below 350 ppm. 350NJ implements the vision and campaigns of 350.org in New Jersey. For more information, go to 350.org and https://www.facebook.com/350NJ.
The New Jersey Sierra Club is a state chapter of America's largest and most influential grassroots environmental organization, with more than 2.4 million members and supporters nationwide. In addition to creating opportunities for people of all ages, levels and locations to have meaningful outdoor experiences, the Sierra Club works to safeguard the health of our communities, protect wildlife, and preserve our remaining wild places through grassroots activism, public education, lobbying, and litigation. The Sierra Club boasts an estimated 20,000 members in New Jersey, the tenth largest of the organization's 65 chapters in the United States, Canada and Mexico.
Food & Water Watch champions healthy food and clean water for all. We stand up to corporations that put profits before people and advocate for a democracy that improves people's lives and protects the environment.