Notice of Upcoming Events:

National Day of Solidarity With Alabama Amazon Workers
Saturday, Feb 20, 2021
12:30 PM – 3 PM

Amazon Fulfillment Center EWR9
8003 Industrial Hwy
Carteret, NJ 07008
Register for this event

View this event on Facebook
The IUC is co-sponsoring this important event.
Hello Fellow New Jersey Movement for a People's Party Volunteers,
Our state hub has organized an Action in Solidarity with Bessemer, Alabama, Amazon workers on their National Day of Action!

Information from SupportAmazonWorkers.com:

Between Feb 8, and March 29, approximately 6,000 Amazon warehouse workers in Bessemer, Alabama will begin voting by mail on whether to be represented by the Retail, Wholesale Department Store Workers Union (RWDSU). The harsh working conditions at Amazon warehouses, along with Amazon's refusal to adopt measures that protect workers from COVID 19, have pushed Amazon and Whole Foods workers everywhere to step up organizing and fighting back.

These predominantly Black workers who have in recent months formed the BAmazon Workers Union, are on the cusp of launching a history-changing workers organization against one of the biggest and most powerful transnational corporations in the world, and its super rich union busting owner, Jeff Bezos. In addition, these workers are standing up to the racist, anti-union laws that suppress labor across the South.

Solidarity from every corner of the labor and progressive movements is needed now to show the workers in Bessemer that they are not alone, that all eyes are on the historic struggle that they are leading. This is especially needed as Amazon ramps up their union-busting tactics.

The Southern Workers Assembly has issued a call for a National Day of Solidarity with Alabama Amazon Workers on Saturday, February 20. Actions are being planned across the South and the U.S. on that day at Amazon facilities (warehouses, distribution centers, Whole Foods, etc.).
Our Action / Event:
We plan to have a short rally and then car caravan around 4 Amazon facilities in Carteret, NJ.

We will meet across the street from the Amazon warehouse located at 8003 Industrial Hwy, Carteret, NJ to poster up our vehicles with support signs. Look for my Red Jeep Cherokee.

If we have speakers, at 1pm we will start with a short rally (please remember face masks), then we will get in our vehicles and drive slowly through the amazon parking lot, showing support for workers right. According to Google street maps there does not appear to be any fences or security guard booths. If we are stopped from entering their parking lots, we will drive back and forth in front of the parking lot and make a lot of noise.

We will circle the lot several times and then around 1:20/1:30pm we will head to the next amazon warehouse located at 380 Middlesex Ave, Carteret, a short 2.6 miles away (10-minute drive) and circle their parking lot a few times. From there at around 2/2:15pm we will proceed to another amazon facility located at 275 Omar Ave, Avenel, just 4.6 miles away (15-minute drive) and circle their Warehouse and Fulfillment center lots.

We are looking for Speakers. If you know of a possible speaker from a Union or someone familiar with organizing a union, and the benefits of having a Union please email PeoplesPartyNewJersey@gmail.com or Cate Manochio at Jersey_Cate@hotmail.com.

Make multiple bright signs, if you need sign ideas or want to print a sign from the resource page click here: https://supportamazonworkers.org/resources/

I will have bring a few extra signs and several rolls of painter's tape - not too sticky, peels right off without leaving goo.

If anyone can loan a bullhorn for the day, that would be appreciated.

Hope to see you Saturday!

In Solidarity,
Andrea and Cate
---
Here are some ways you can help NJUHC build
the movement for Medicare for All in NJ:
You can do some of these tasks on your own. Some require that you learn skills or work with other NJUHC volunteers. Send a message to njuniversalhealthcare@gmail.com, tell us what you want to do, and we will connect you with the right people.
Add your name, email and phone # to our contact list for info about future projects and updates about our work. We send out an e-newsletter about once a month.
Tell your friends, family, and co-workers about Medicare for All and invite them to our events.
Join NJUHC! We have two kinds of memberships. Organizations can become embers if they share our mission, and pay annual dues of $100. Organizational members may nominate representatives to serve on our Board. Individual member dues are $25/year, and give you the opportunity to serve on Board Committees.
Lead or be part of a NJUHC organizing team in the NJ legislative district where you live. Our teams meet with legislators, and may use various organizing tactics to encourage their support for Medicare for All in NJ (A2269 and S2598).
Lead or be part of Congressional District team where you live. Our teams meet with members of Congress to encourage their support for HR676 and S1804.
Call Senator Menendez at one of his NJ offices and tell him to co-sponsor S1804. The phone at his Newark office is: (973) 645-3030 and in Barrington: (856) 757-5353.
Organize educational events about Medicare for All. Building a movement means getting more and more people to understand and support Medicare for All.
Join our Speakers' Bureau as speaker, or supporter who helps make sure speakers have what they need (based on region where person lives). All speakers must attend a training workshop that NJUHC conducts on an as-needed basis.
Take responsibility for social media updates. We have a presence on Facebook and Twitter, and we are trying to build one on Instagram. All require regular updates and new postings to hold interest. You can help us maintain an on-line presence that is substantive and interesting.
Get trained and in our rotation to prepare monthly e-newsletters to our list serve. We use open source software called Civi-CRM. It is relatively easy to use.
Be an on-line listener. Utilize tools like google alerts, tags, RSS readers, Twitter searches, etc. to stay on top of what on-line communications are saying about Medicare for All. Help us use that information to build our base.
Register to vote, if not registered, and then vote for candidates that support Medicare for All.
For more information about current legislation, click here!
---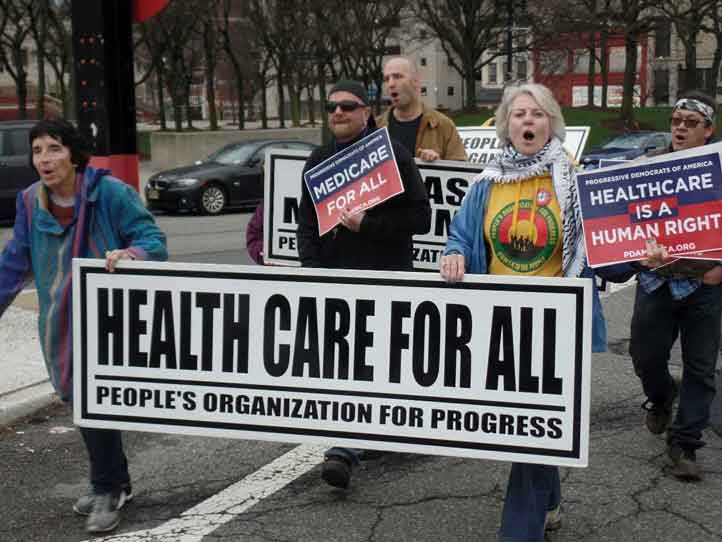 Donate to the IUC!
Click on the button below to make an online contribution using PayPal: