Notice of Upcoming Events
Forum on the Saudi-Led War on Yemen
Thursday, March 15, 2018, 7:00–9:00 p.m.
Reformed Church of Highland Park
19 S. 2nd Avenue, Highland Park, NJ 08904
Admission Free; Donations Gratefully Accepted
Light refreshments served at 6:30 p.m.
Why Should Americans Care?
U.S. supplying arms and military support
Humanitarian crisis of enormous proportion with cholera epidemic
Destabilizing Middle East
Learn about the situation and what you can do as an American
Speakers:
Kathy Kelly: Cofounder and Coordinator, Voices for Creative Nonviolence
Carmen Trotta: NYC Catholic Workers; Organizer of Vigil in New York against U.S. Involvement in Yemen
Lu Aya: Peace Poets "A Family that Makes Music and Poetry for the Liberation of the Human Family"
Additional speakers to be announced
Click here for a downloadable and printable flyer
---
NJ 11th for Change: Fridays without Frelinghuysen
Friday afternoons, 11:00 a.m.–2:00 p.m.
Rep. Frelinghuysen's District Office
30 Schuyler Place, Morristown, NJ 07960
Due to fire codes and the popularity of this weekly event, we are only permitted upstairs 15 at a time to go talk with Rodney's office staff. While people wait outside, they often make new friends or catch up with friends they've already made at these weekly visits, bring signs to hold if desired, and sometimes play music. Group photo at noon!
---
The IUC Stands for Immigrant Rights!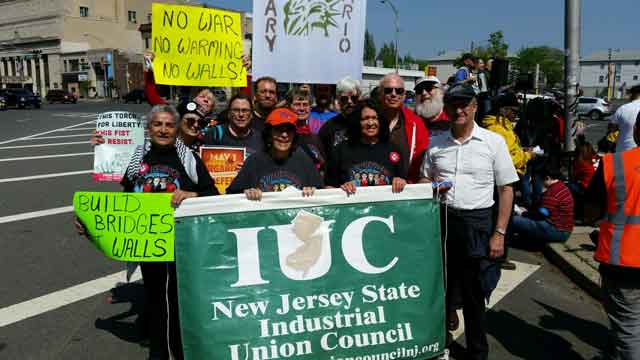 IUC members participated in the "A Day Without Immigrants" march and rally,
May 1, 2017, in Newark.
---
Remembering Dr. King in Newark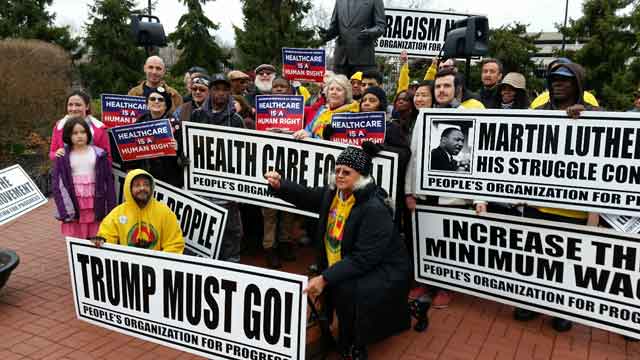 IUC members joined the march and rally to commemorate Rev. Dr. Martin
Luther King, Jr., and to demand a single-payer healthcare plan on April 4, 2017 in Newark.
---
Victory in the Strike Against Verizon!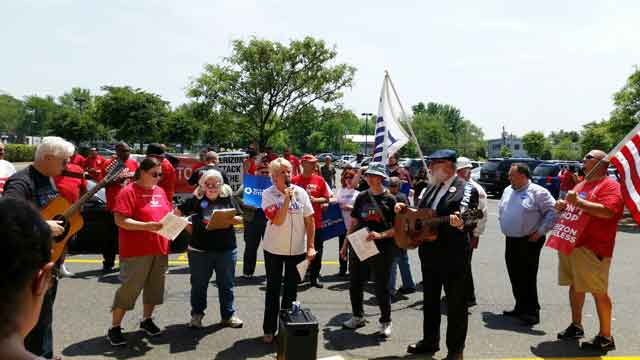 IUC President Carol Gay, flanked by the IUC's Solidarity Singers, speaking to Verizon strikers picketing the Verizon Wireless store in East Brunswick. The next day, a tentative agreement—with big gains for the workers—was announced. The strike ended with victory!
---